Pony Club
"One only has to read the mission statement at Topline stables to get a very clear picture of what you and King stand for. I know you have invested in yourselves personally and professionally to ensure you are being your best, and creating the best environment for horse and rider to meet, train and compete. King you are always creating, fixing, maintaining, improving, problem solving, and caring about the grounds and facilities. Sonya as a past pony clubber yourself, you know the value of the training and purpose of the program.
We know firsthand the compliments your students have received from trainers on the coast who noticed the quality and skills sets you provide for them. It's all in the little details and you don't miss a thing! We have had numerous riders and their parents testing or competing around the area and they come back and comment "boy Topline is amazing, wow we didn't have a clue how great this place is, till we competed at other venues."
King and Sonya have truly done an excellent job in maintaining and creating a fun, safe and beautiful environment for our riders to train and compete at, all with great care and consistency. We are grateful!"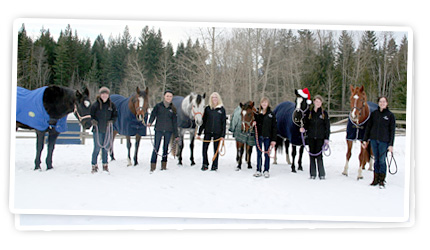 Robyn Zimmer
"I just spent a week at Topline Stables which included a two day Horse Trials BC clinic with Sarah Bradley, the Topline Combined Test and the Topline Summer Horse Trials. This was an incredible training opportunity for my horses and I would like to thank Sonya and King Campbell of Topline Stables and Horse Trials BC for enabling this to happen.
Topline Stables is a beautiful facility that BC is very lucky to have. Having a clinic just before the event was great for my young, green horse as it exposed him to the field and jumps then over the next several days transitioned him into the show atmosphere. This was an excellent opportunity for condensed, progressive training and provided a very positive experience for him.
Topline has recently incorporated a Combined Test of dressage and show jumping the day prior to the event. I love this idea and found it to be extremely educational and helpful in training and preparing for competition. Separate awards and prizes make the Combined Test a competition of its own. The summer horse trials were fantastic. The hog fuel dressage ring and huge show jump arena with top class show jumps made the event challenging and fun. The cross country had excellent footing, varied terrain, safe and interesting jumps, and provided progressive levels of competition from Starter to Training level.
The facility is upgraded constantly and very well maintained. Sonya and King went out of their way to accommodate the competitors and their horses which was wonderful. The atmosphere was calm and fun while still being competitive and top class. Topline also has great prizes too!!"